2nd Engineering 3 Minute Thesis (E3MT) Competition
The 2nd E3MT competition held virtually 25 February 2021 on WebEx and streamed online through the EGCC YouTube channel. The event was supported by the Engineering Advancement Trust (EAT) and the Graduate students association (GSA). All participants presented their research work and competed for 1st, 2nd, and 3rd place and people's choice prizes at the local level valued at $1000, $750, $500, $250, respectively. All participants also entered a draw with a chance of winning an additional prize. The participants were from the six departments within the College of Engineering, which prepared students for the GSA and the regional 3MT® competitions.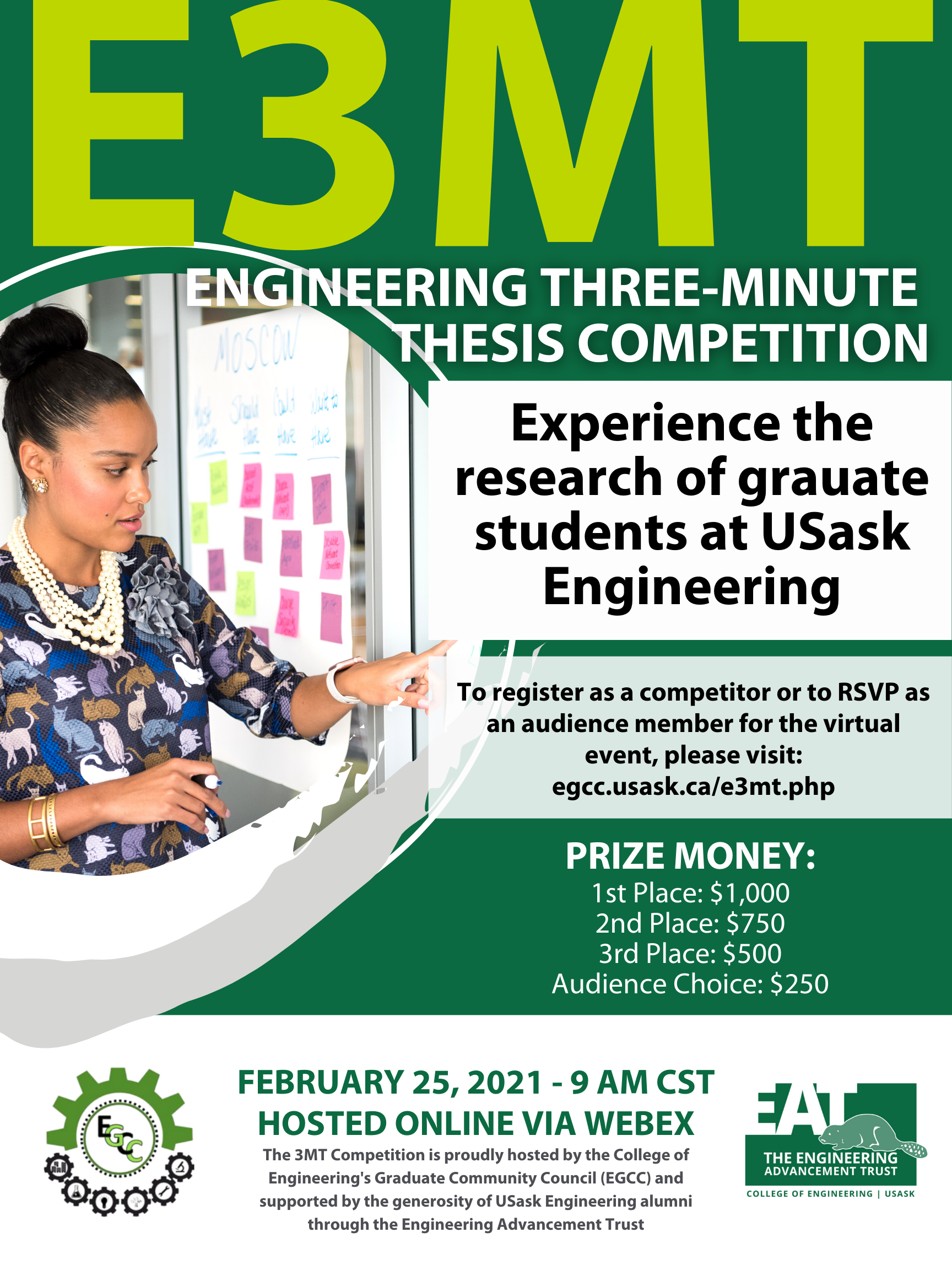 For competition rules and judging criteria click here. Here is the full event Live stream on our YouTube channel: 
8 February - Abstract submission deadline
15 February- Extended abstract submission deadline
16 February - Slide submission starts 
22 February - Slide submission deadline
25 February - 2nd E3MT Event (9 AM CST) Virtually on Webex
 Judging Panel:
Bert Munro, PEng. Senior Civil/Municipal Engineer
Dr. Tate Cao, Ph.D. (U of S, Graham School of Professional Development)
Mohsen Shakouri, Ph.D. (U of S Alumni, current employee Canadian Light Source)
Dr. Sumith Kahanda (U of S Alumni, current employee Saskwater)
Dr. Zsuzsa Papp (Mitacs) 
Winners: 
First Place:
Khaled Zoroufchi Benis, 
Eco-friendly Sorbent for Treatment of Aqueous Arsenic
Second Place: Ninu
Kallingal Mohandas, 
Developing protein products from canola meal and its techno economic analysis
Third place: Eric Yang, A Novel Method for Air Quality Control inside Livestock Buildings Using Engineered Water Nanostructures (EWNS)
Audience Choice: Amirhossein Ravanbod, The Rock Launcher
For a complete list of participants with their presentation title and contact information click
here
.