3rd Engineering 3 Minute Thesis (E3MT) Competition
The 3rd E3MT competition will be held in-person and virtually on 25 February 2022. This year's hybrid competition will be in Health Science Theatre and on the Zoom platform. The audiences can join via zoom or watch the competition through the EGCC YouTube channel. The event would not be possible without the support from the Engineering Advancement Trust (EAT), the Graduate student's association (GSA) and SaskPower. All participants will present their research work and will compete for 1st, 2nd, 3rd, 4th and 5th place in addition to a people's choice prize. All participants will also be entered into a draw with a chance of winning additional prizes. Participants from all departments within the College of Engineering are invited, which will prepare students for the GSA and the regional 3MT®️ competitions.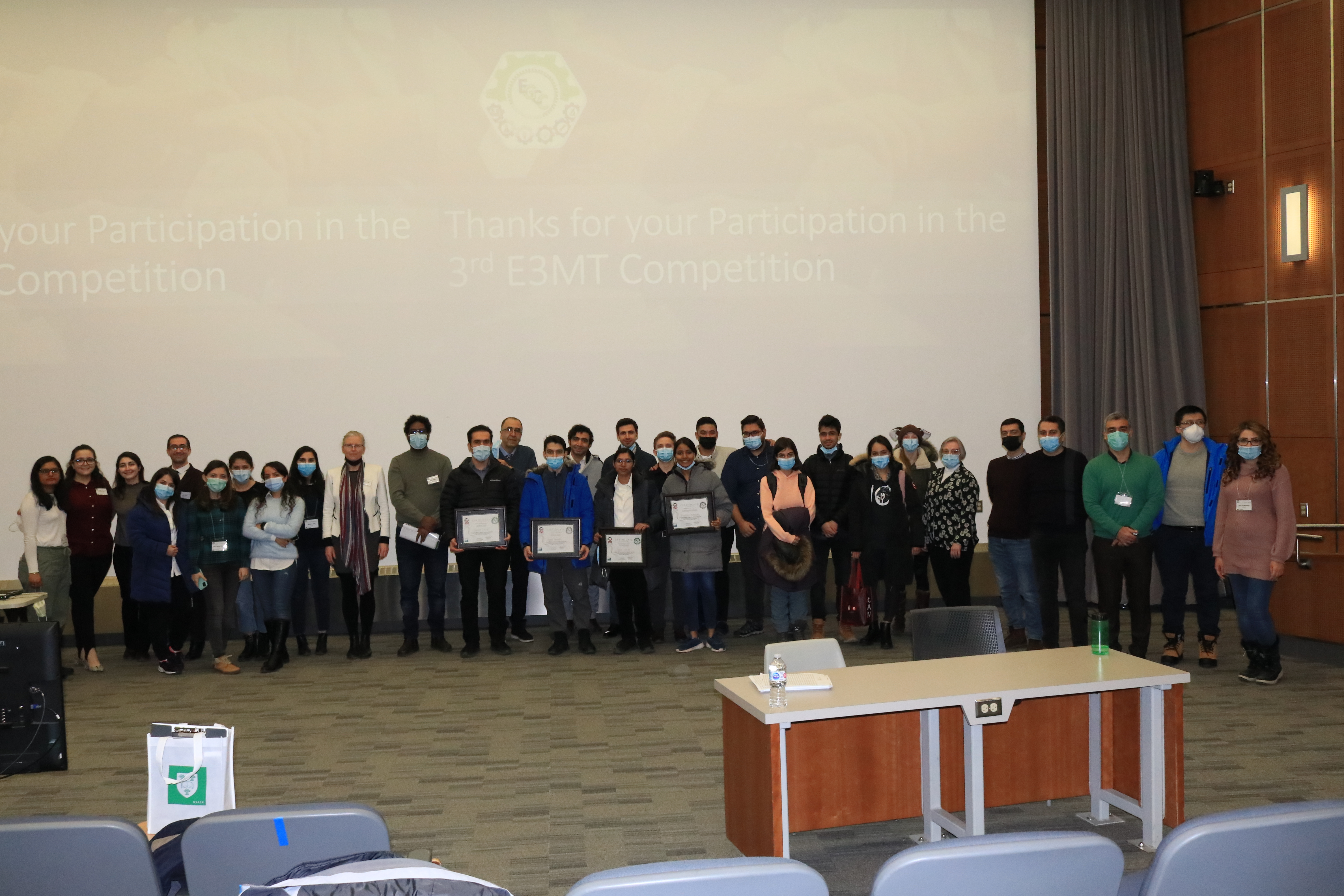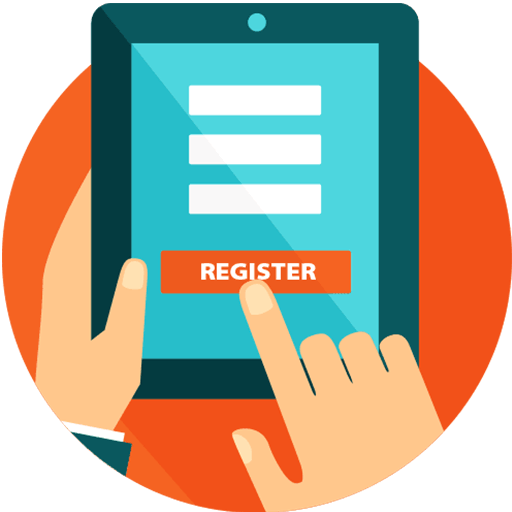 Competitors Registration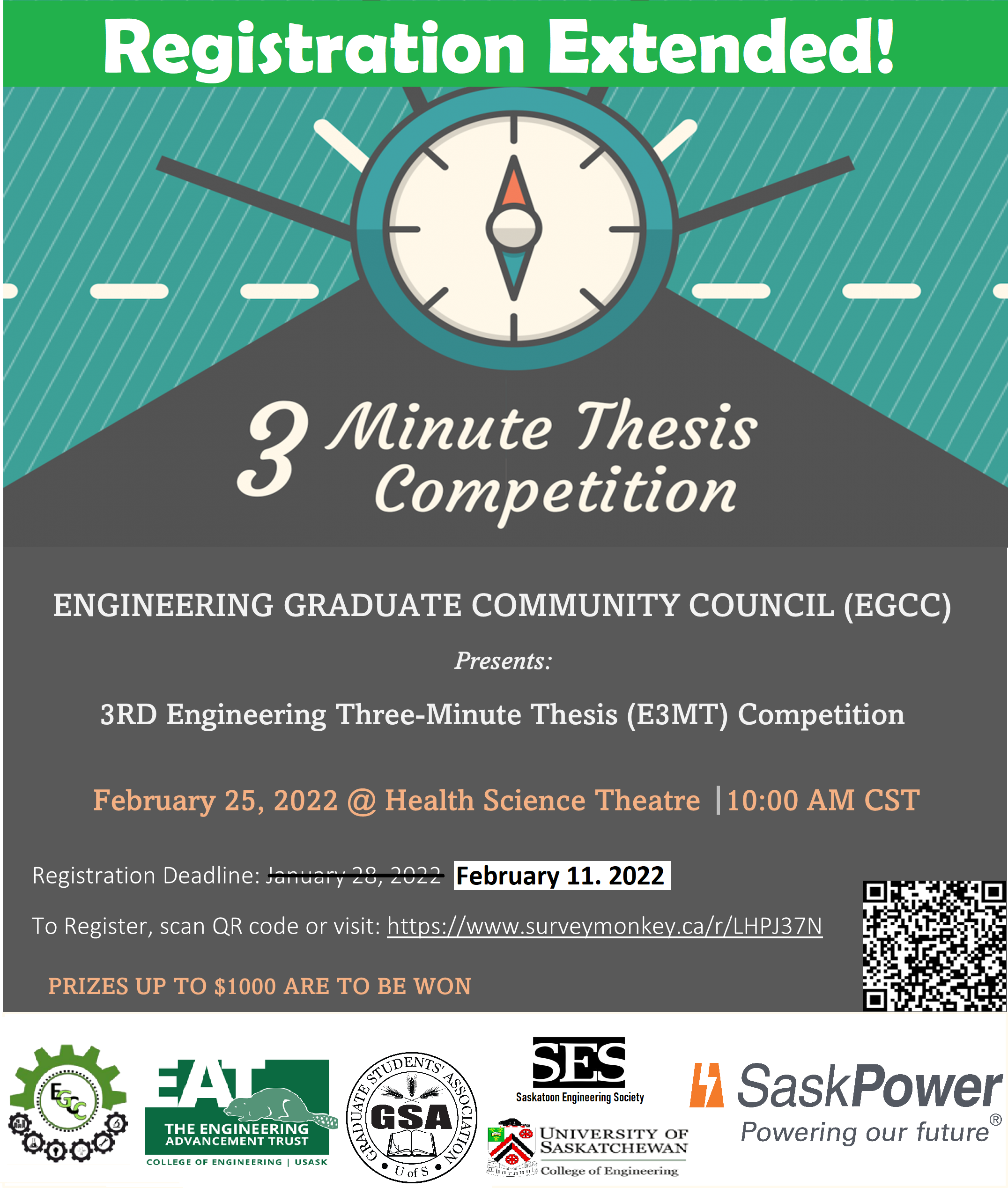 For competition rules and judging criteria click here.
Here is the full event Live stream on our YouTube channel: 
28 January - Abstract submission deadline
11 Feb - Abstract submission deadline (Extended Registration)
11 February - Slide submission starts 
20 February - Slide submission deadline
22 February - Slide submission deadline (extended)
25 February - 3rd E3MT Event (10 AM CST) Mode In-person/Online (Hybrid)
Handbook and Agenda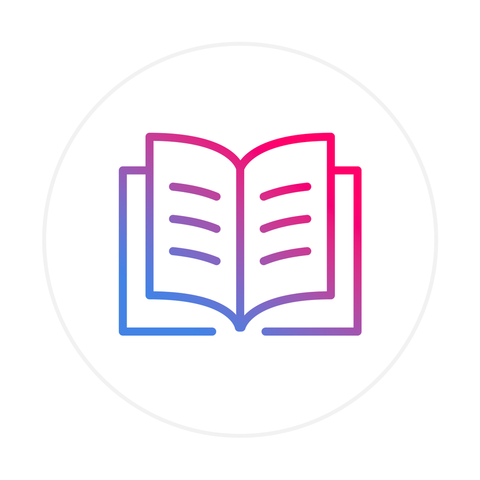 Judging Panel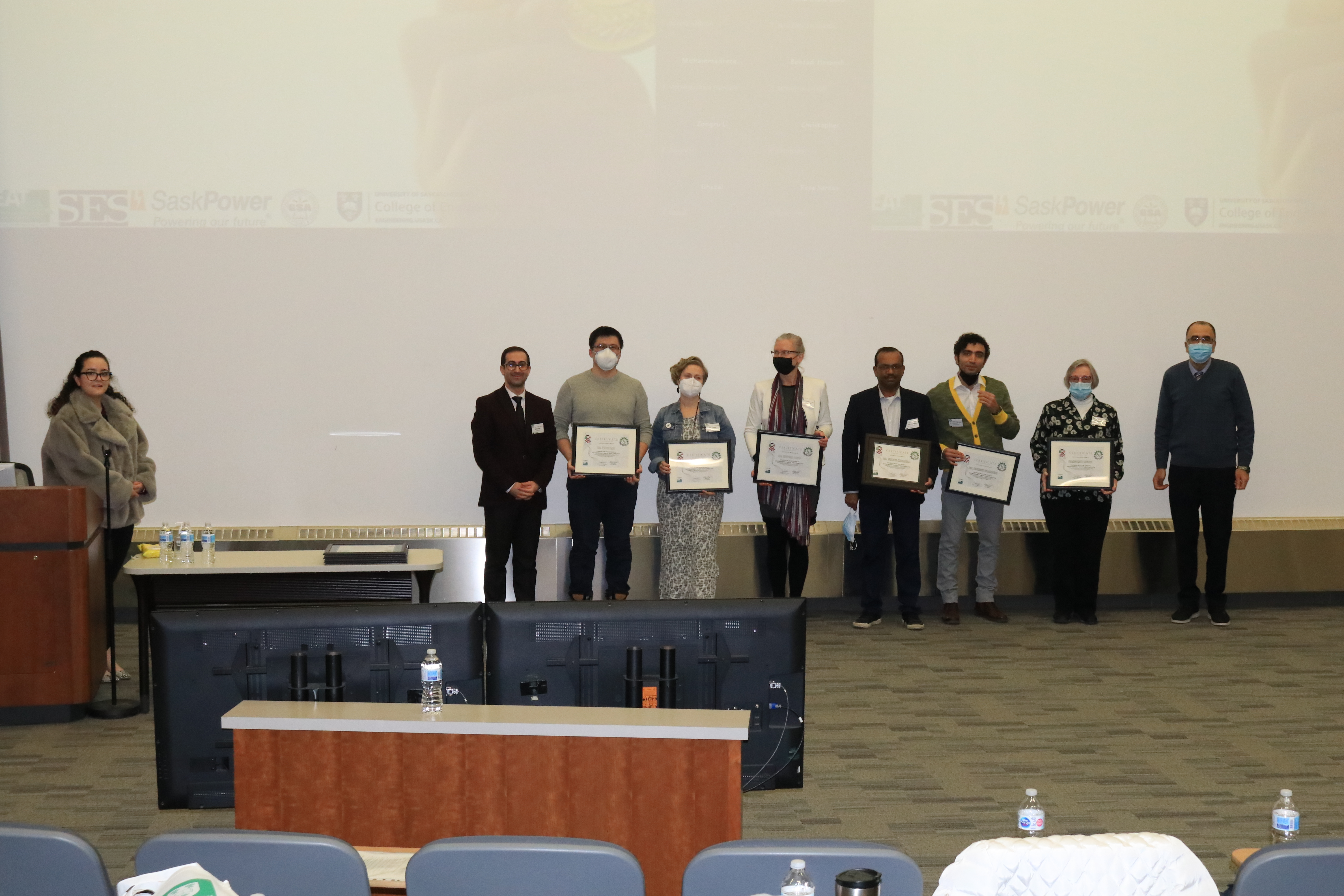 Christy Miller

Christy Miller is the Director of Alumni & Donor Engagement and the Executive Director of the Alumni Association at the University of Saskatchewan. A proud USask graduate, Christy's work in higher education, advertising, and the nonprofit sector took her across Canada and into the US, eventually leading her back to Saskatchewan to pursue a career at her alma mater that has spanned across communications, fundraising, and alumni relations over the past 16 years. Together with her team, Christy helps ensure that individuals experience high-quality interactions with the University of Saskatchewan fostering meaningful, long-term engagement, building relationships, and promoting investment in the university. 

Dr. Zsuzsa Papp

Dr. Zsuzsa Papp is the Saskatchewan representative for Mitacs, a national not-for-profit network, and funding agency. She facilitates applied research collaborations across all disciplines: meeting professors, companies, students, and postdocs about their projects and needs, helping with proposal drafts, and promoting programs.  Prior to joining Mitacs, she was a project manager at Environment and Climate Change Canada, and before that conducted postdoctoral research and extensively published in the fields of life and environmental sciences. She is a Ph.D. of the U of S. Besides being committed to lifelong learning in sciences, her personal interests include arts and culture, science education and outreach, habitat/wildlife conservation, gardening, languages, sports, and outdoor activities.

Dr. Sumith Kahanda

Dr Sumith has graduated with Ph.D. in Agriculture and Bioresources Engineering from the College of Engineering, the University of Saskatchewan, M.Sc. in Water Resources Engineering from Katholieke University, Belgium, and B.Sc. in Agriculture (Major: Agriculture Engineering) from the University of Peradeniya, Sri Lanka. Dr. Sumith is currently working as a Project Manager at SaskWater. He has over 15 years of industry experience, as an Engineer, Project Manager, and Leader.  He is the current President, Saskatoon Engineering Society (SES), and Past President,  American Society for Quality (ASQ), Saskatchewan Chapter.

Dr. Tate Cao

Dr. Tate Cao was born and raised in China. Now he lives in Saskatoon Canada. Most recently, He is an Assistant Professor at the University of Saskatchewan, and the La Borde Chair in Engineering Entrepreneurship. His goal is to develop entrepreneurship education for the students here, so the brilliant engineers do not have to make the same mistakes as he has done.


Up to now, he has experience as an engineer, evangelist, patent attorney, project manager, entrepreneur before becoming a professor.

Other than that, he spends his spare time playing soccer.

Margaret Kuzyk

Margaret Kuzyk is a retired professional engineer from Saskatoon. She holds a diploma in architectural technology from SAIT in Calgary and a degree in civil engineering from USask. She worked primarily for municipal, provincial and federal governments, in the areas of building codes and regulation, project management and facility planning, and served as the Chief Building Official for the Province of Saskatchewan.

Margaret's involvement in APEGS (Association of Professional Engineers and Geoscientists of Saskatchewan) includes being a life member, past president, former USask Senate representative and award winner. She is a Fellow of Engineers Canada, a Fellow of Geoscientists Canada (Hon.), a life member of the Saskatchewan Building Officials Association, and winner of a codes-related award from the National Research Council of Canada. Margaret has served the community as a public representative on the Council of the College of Physicians and Surgeons, and a patient-family partner for the Saskatchewan Health Authority. Margaret has served as chair of the USask Engineering Advancement Trust and a warden for the Engineers' Iron Ring Camps in Regina and Saskatoon, and is currently an alternate warden for the Camps' national corporation.

Dr. Mohsen Shakouri

Dr. Mohsen Shakouri is a staff scientist and the beamline responsible for the Soft X-ray Microcharacterization beamline (SXRMB) at the CLS. Mohsen has more than 10 years of professional experience in developing and synthesizing structured nanomaterials catalysts, designing and fabricating lab-scale test set-ups to evaluate catalyst performance, and handling various characterization and analytical instruments. He is also experienced in investigating materials' chemical structures using X-ray spectroscopy, microscopy, and crystallography techniques. Mohsen likes to conduct hands-on experimental work, from designing the experiments, building the setups, to completing the runs and interpreting the results.

Mohsen obtained his Ph.D. and MSc degrees in the Chemical and Biological Engineering Department at the University of Saskatchewan in 2018 and 2012, respectively, and his BSc. in Chemical and Petroleum Engineering at the Sharif University of Technology in 2008.

When he needs a break, he likes to cook. He is also a huge fan of soccer and volleyball and has played in various tournaments here in Saskatoon.
Winners: 
1st place: 750.00$
Christopher Elash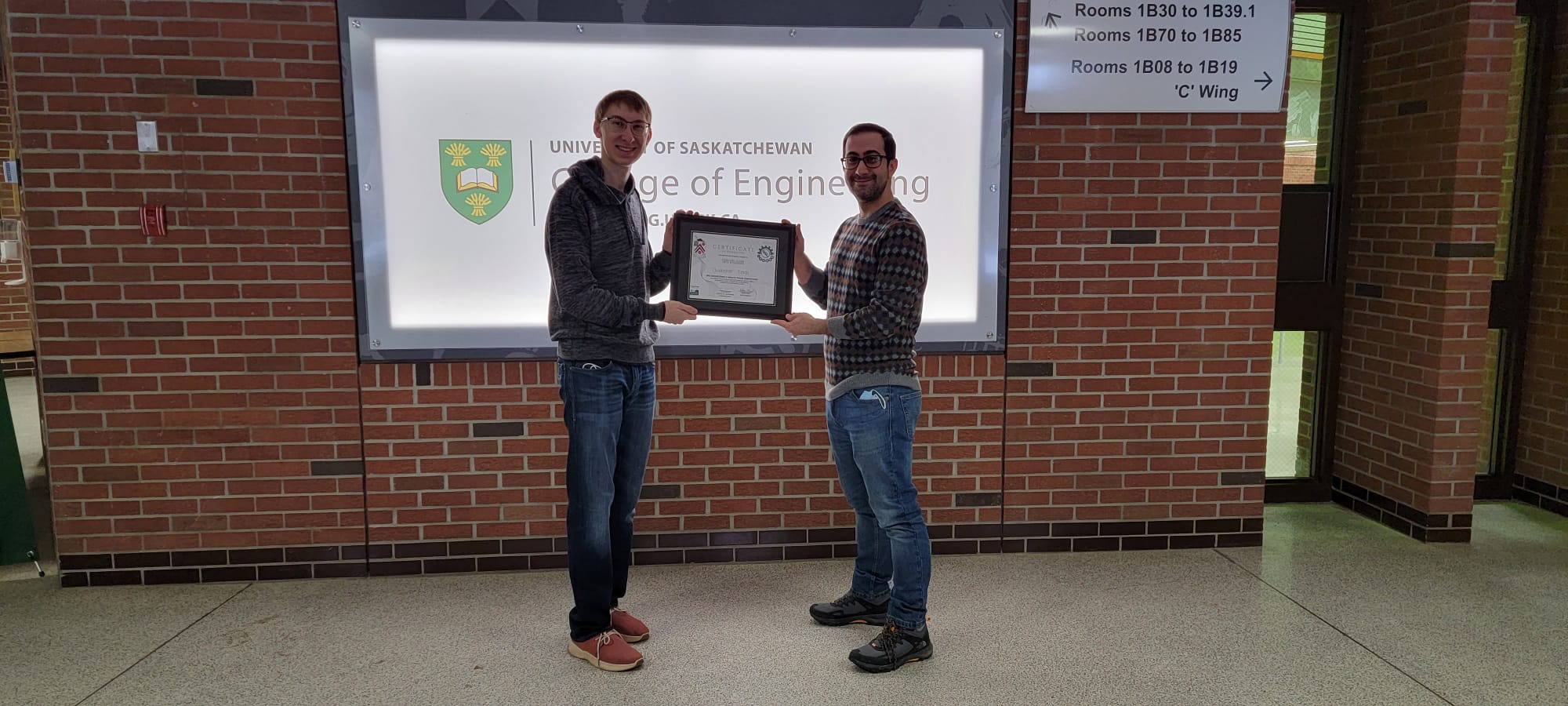 2nd Place: 500.00$
Shahab Minaei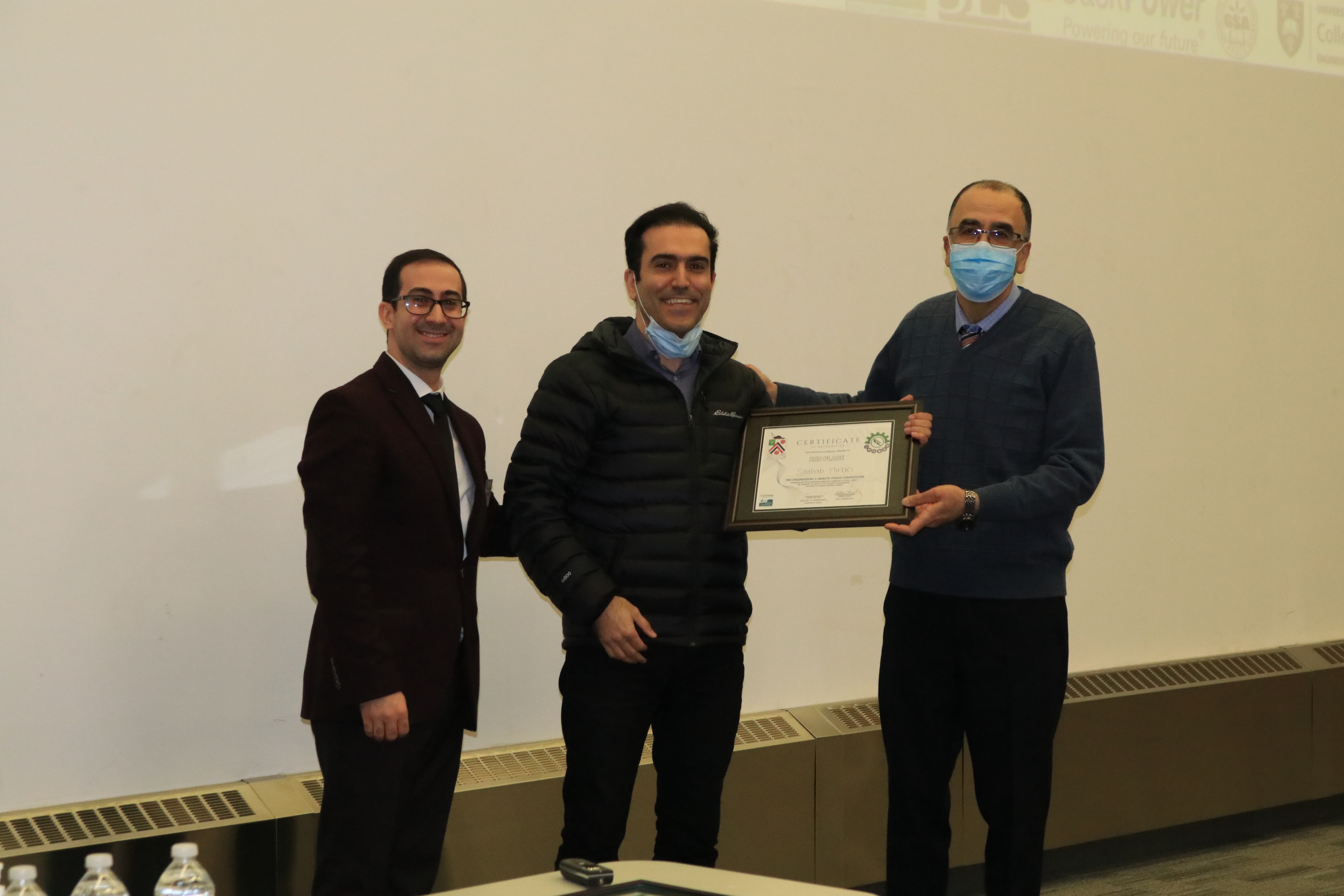 3rd place: 300.00$
Seyed Shahim Vedaei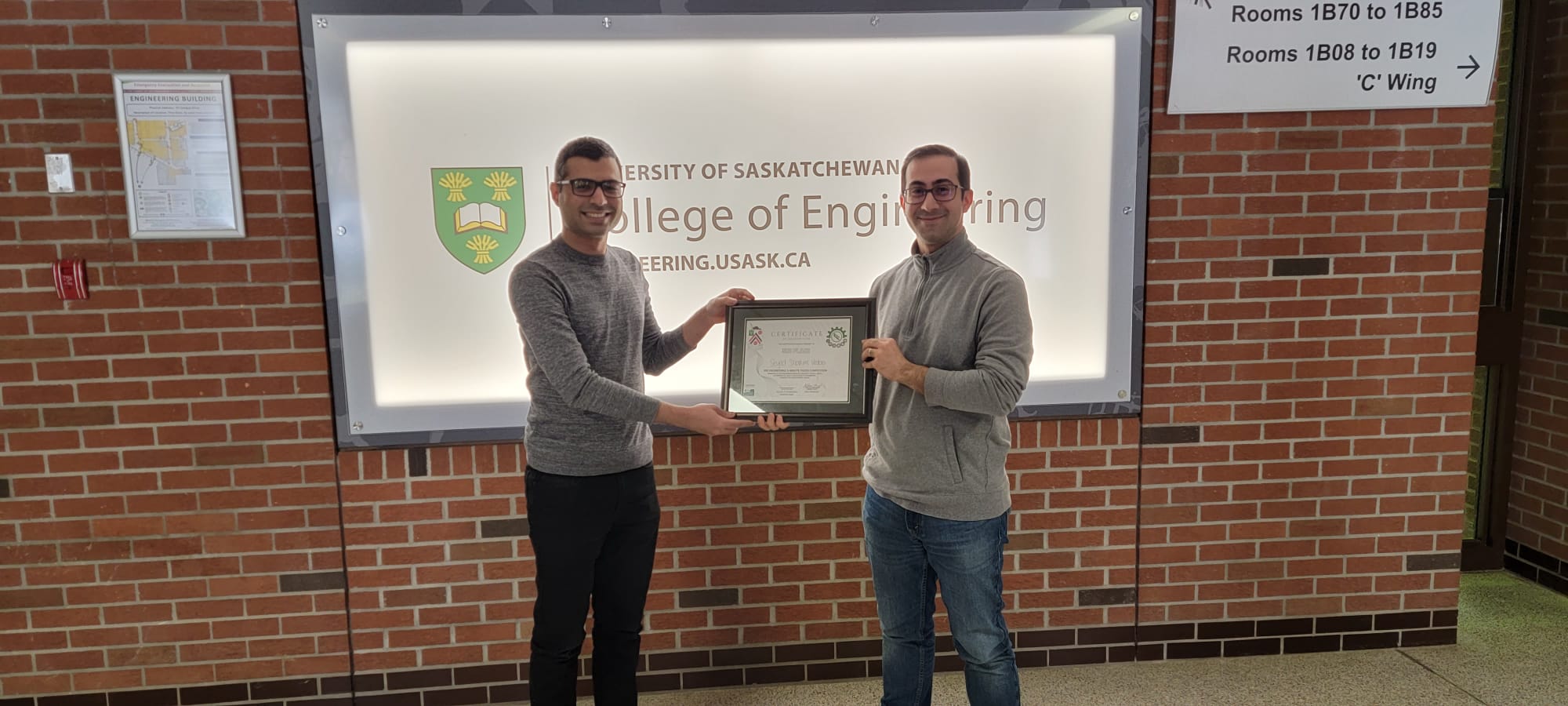 3rd place: 200.00$
Tumpa Sarker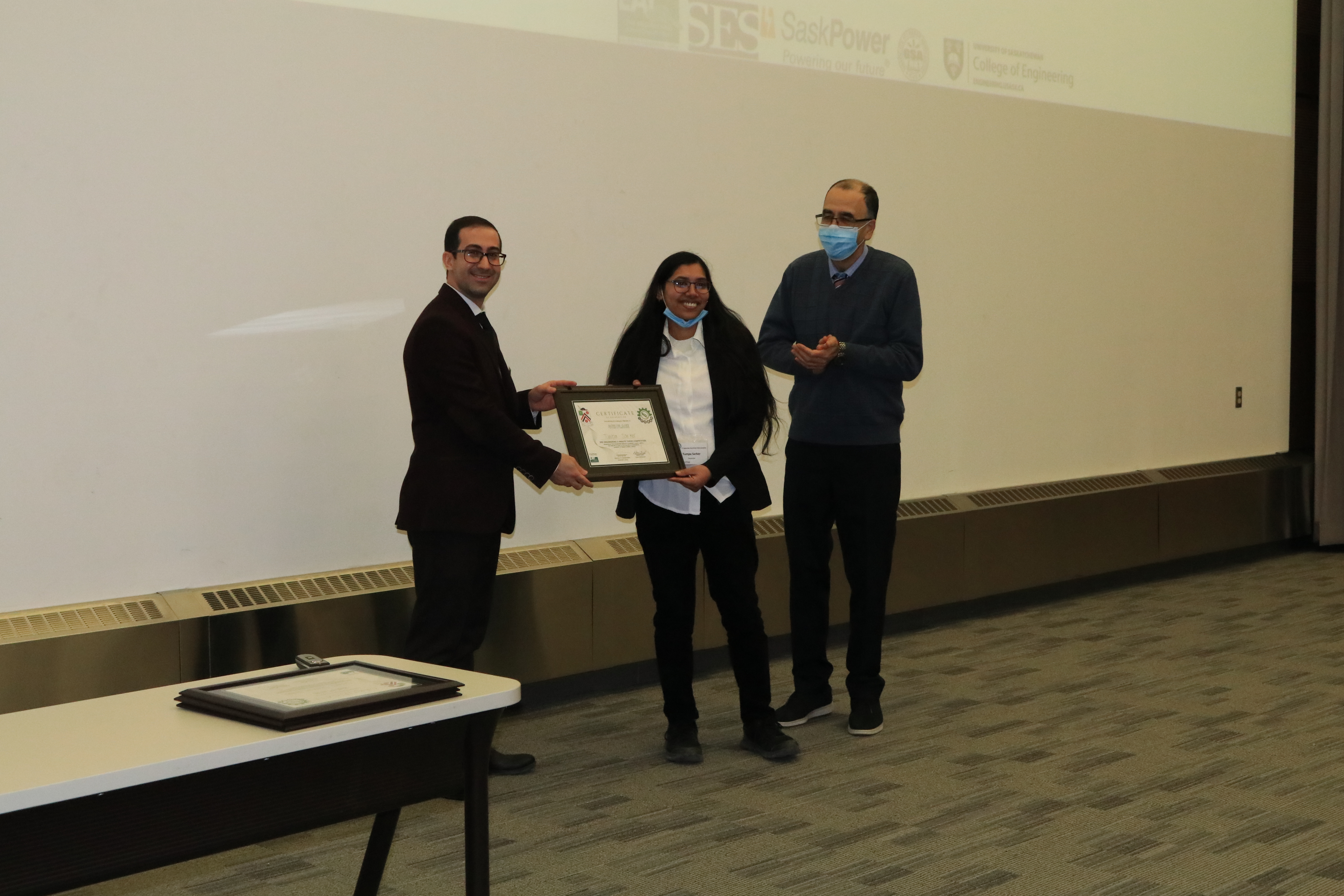 4th place: 150.00$
Arash Farahdel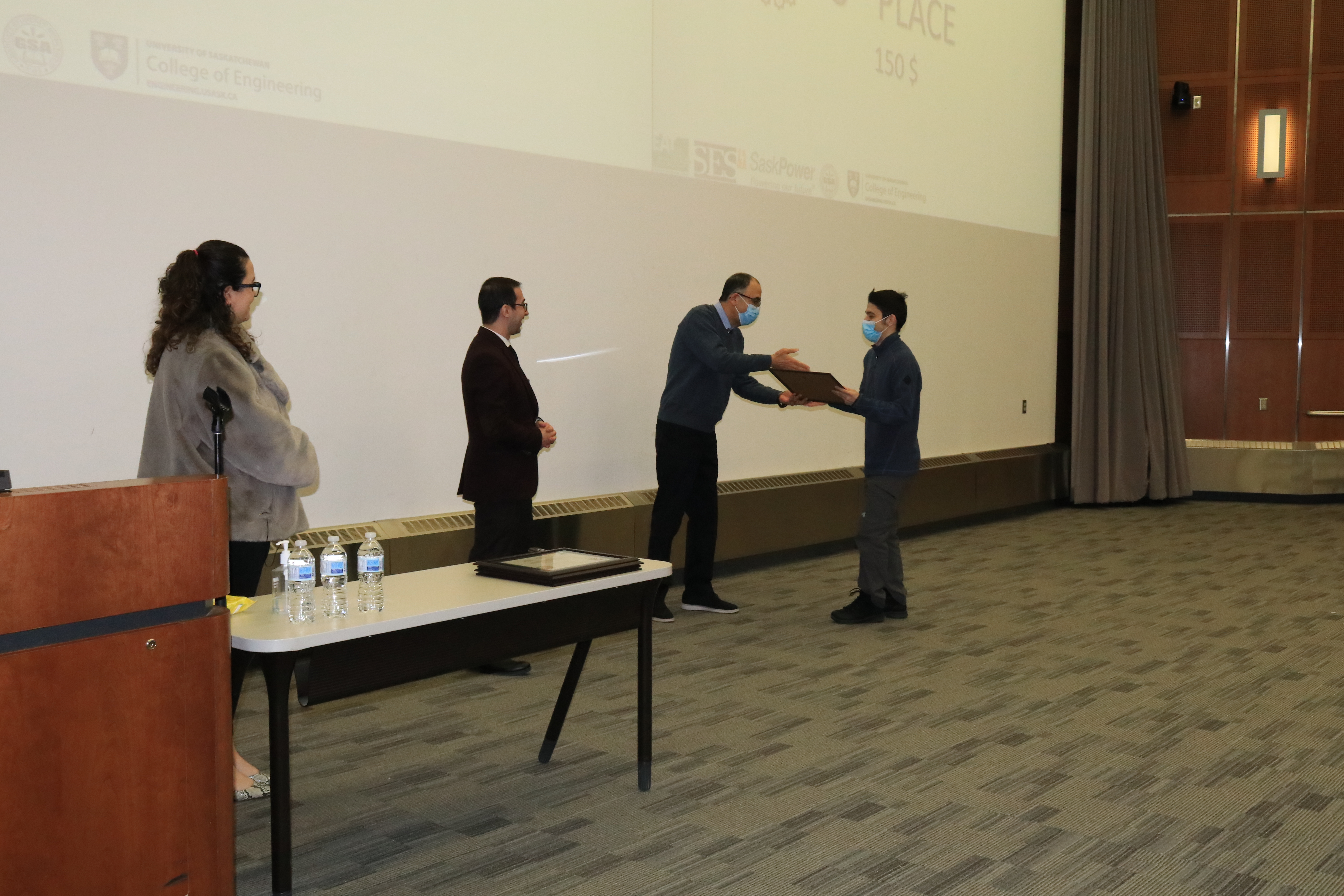 Audience Choice: 100.00$
Priyanka Triumareddy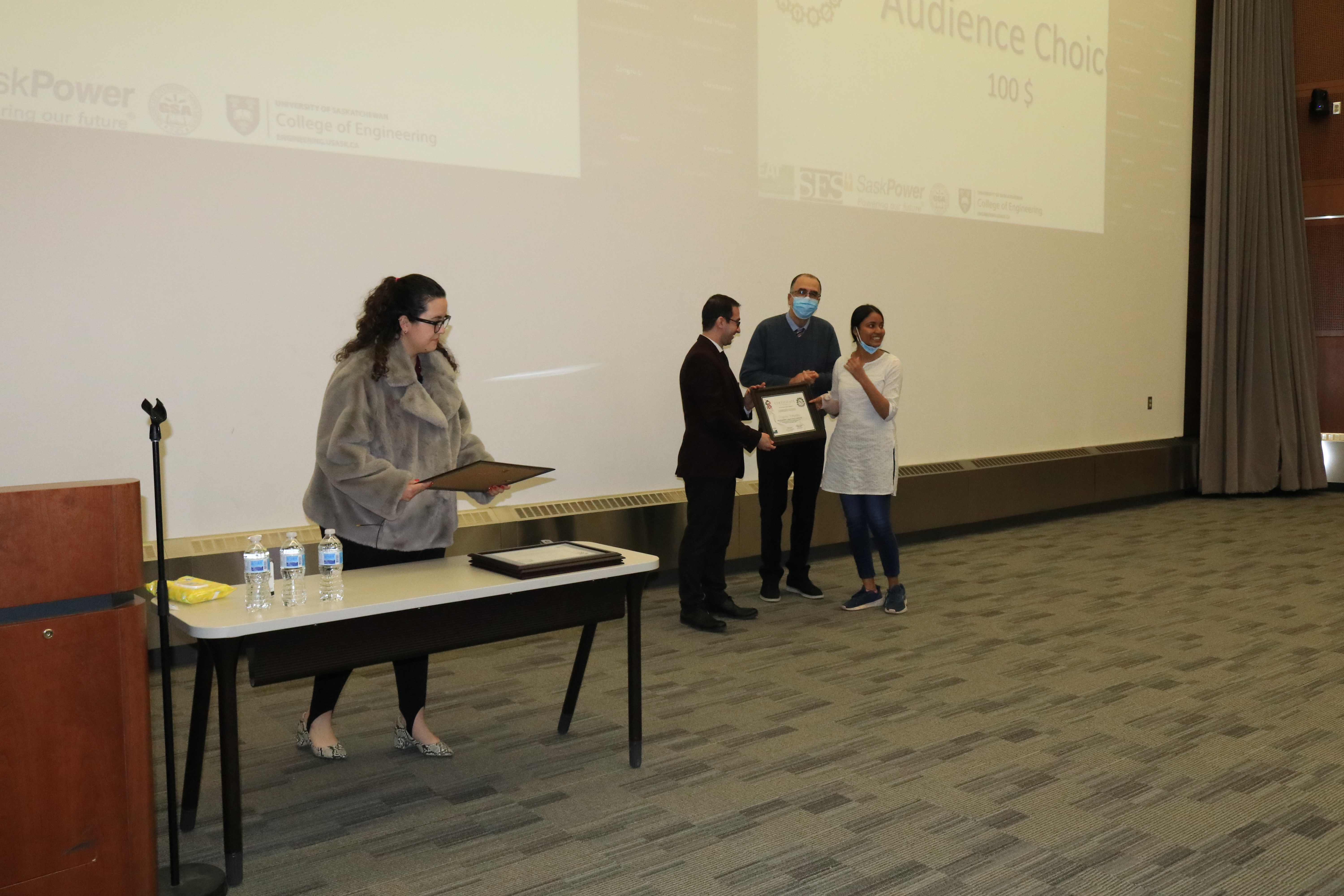 | | | |
| --- | --- | --- |
| First name | Last name | Open-Ended Response |
| Alec Roger | Vista | Determination of Water Vapor Sorption Isotherms of post-harvest Cannabis |
| Pezhman  | Zolfaghari Didani | Ozone-based disinfection platform for the indoor air conditioning systems |
| Shahab | Minaei | Studying the fate and transport of chemicals of emerging concern through the wastewater treatment plant |
| Amir | Noori | Plant Protein De-flavoring (PPD) |
| Zongru | Li | Radiation tolerant intergrated circuits |
| Arash | Yahyazadeh | Conversion of Agricultural Wastes to Fuels and Chemicals |
| Reza | Khatib Zadeh Davani | Improvement of X70 pipeline steel properties for application in low temperature environment |
| Christopher | Elash | Radiation Hardened Computer Cores |
| Behdad | Saed | Water-Energy-Food Nexus in the Canadian Prairies |
| Zachary | Lang | Diamond Recovery Using Sensor Based Sorting |
| Behzad | Hasanshahi | A Systematic Approach to Design Soft Mechanisms Based on Topology Optimization |
| Ninu | Kallingal Mohandas | Proteins from Canola - Technoeconomic Analysis |
| Hamed | Alizadeh Sardroud | 3D-Bioprinting may treat Osteoarthritis! |
| Li | Zhou | Crude vegetable oil refining |
| Tumpa | Sarker | Production of High Quality Fuel Pellets from Biomass Residue |
| MOHIE AL DINE | CHAABAN | Using Alternating High-Shear and Rest-Time Environments to Examine the Build-up of Localized Yield Stress in Mineral Slurries of Nickel Laterite |
| Aiman | Siddiqui | Spectral Efficient Modulation on Conjugate Reciprocal Zeros SE-MOCZ for the future smart applications |
| Alivia | Mukherjee | Can Caffeine contribute towards climate change: Yes or No!! |
| Ahmad | Karimi | Microfluidic Fuel Cell |
| Julio | Torres-Tello | Feature Selection in Deep Learning Models |
| Shiva | Mostafavi | Changes in meniscus position and composition under load |
| sana | Daneshamouz | Torrefaction |
| Mohammadreza | Behjoee | Performance of Pelletized Biosorbents for Purification of Fuel Vapors/Gases |
| Sarah | Allahmoradi | Application of AI in Power System |
| Sima | Zeinali Danalou | Using Synchrotron X-ray CT to Study Pharmaceutical Powders Mixing Quality and Dynamic Wet  Granulation  |
| Amir | Payan | Photocatalytic oxidation of VOCs |
| Toan | Truong | Failure Resistance Of Additively Manufactured Maraging Steel M350 Under Dynamic Impact Loading |
| Mohammad Amin | Zamiri | Microwave-assisted production of porous carbon materials |
| Amin | Babaeighazvini | Cellulose based materials and their application |
| Priyanka | Tirumareddy | Upgradation of bio-crude obtained from hydrothermal liquefaction of lignocellulosic biomass via hydrodeoxygenation |
| seyed shahim | vedaei | The wireless capsule endoscopy localization inside the human body |
| Arash | Farahdel | Event-triggered Wildfire Surveillance |
| Mohammad Majid | Abedi | Evaluating subjective road safety using crowdsourced (social media) data |
Sponsors
Gold Sponsors
---
 Silver Sponsors

---
 Bronze Sponsors