4th Engineering 3 Minute Thesis (E3MT) Competition
The Engineering Graduate Community Council (EGCC) invites you to participate in the 2023 Three Minute Thesis (E3MT) Competition of the College of Engineering with a total prize of up to $2,000.
The 4th E3MT competition will be held in-person on 3 March 2023. This year's competition will be held in Engineering Library from 11 a.m. to 3 p.m. The event would not be possible without the support from the Engineering Advancement Trust (EAT), the Graduate student's association (GSA), SaskPower, Red Leaf and TideWater. All participants will present their research work and will compete for 1st, 2nd, 3rd, 4th, and 5th place in addition to a people's choice prize. All participants will also be entered into a draw with a chance of winning additional prizes. Participants from all departments within the College of Engineering are invited, which will prepare students for the GSA and the regional 3MT®️ competitions.
Prizes:

 Besides 6 main prizes, all participants will receive a package of gifts for their recognition.

1st:  $700 

2nd: $500 

3rd:  $300 

4th:  $200 

5th:  $150 

Audience choice: $150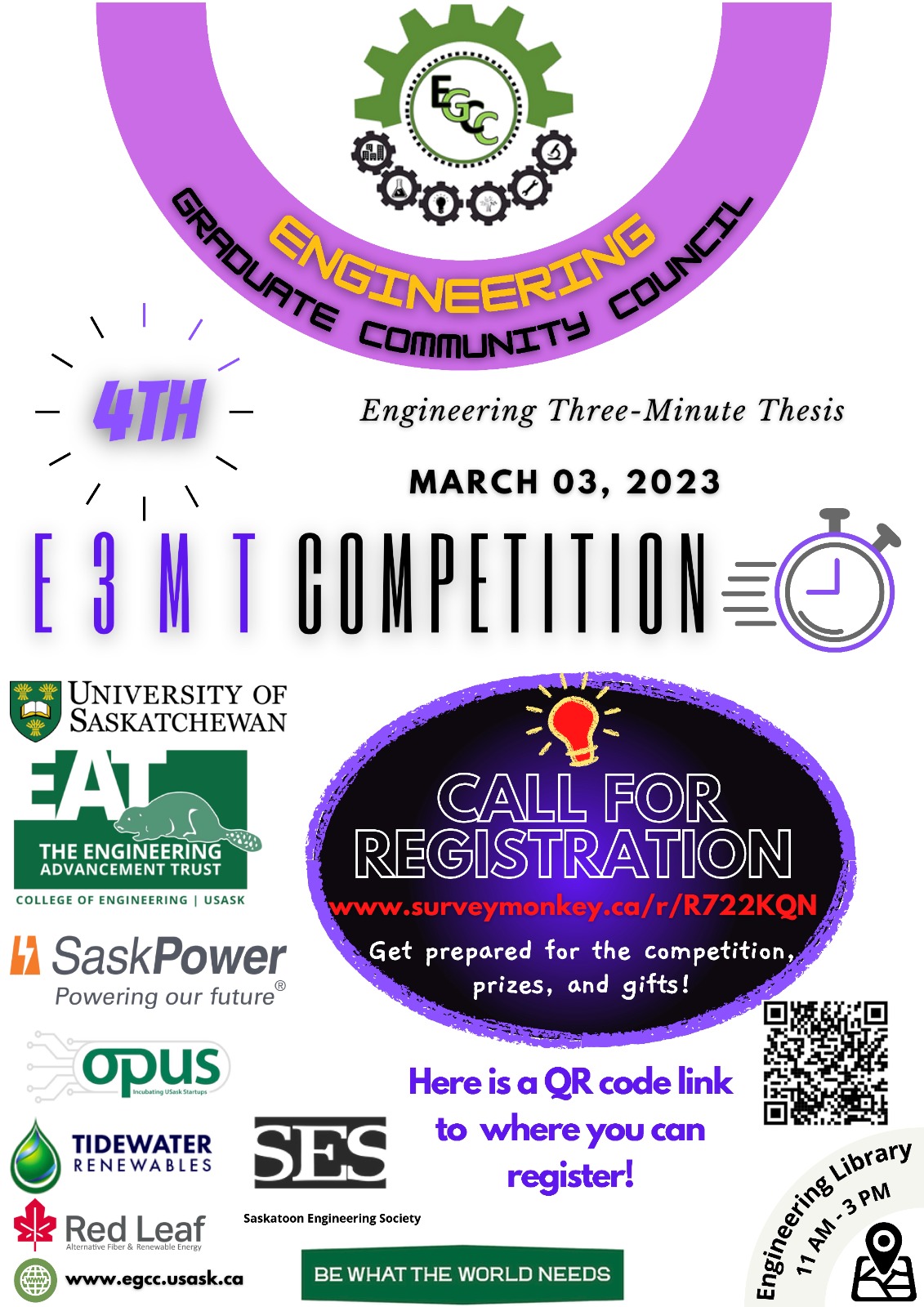 Engineering graduate students interested in participating in this year's E3MT Competition must submit abstracts that are no longer than 350 words.
Abstract Submission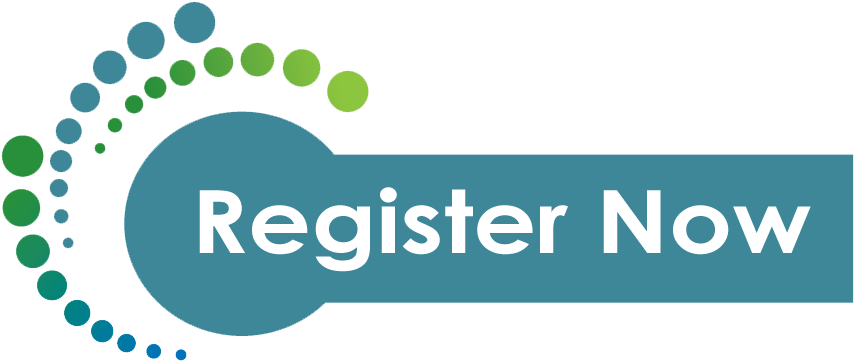 Eligibility:

 All Engineering graduate students (Master & Ph.D.)

Instruction:

All you need to do is to fill up a registration form: surveymonkey.ca/r/R722KQN, send us your abstract (max. 350 words), and prepare a 1-SLIDE presentation for the event day.

Academic and industrial juries will evaluate the winners based on communication skills, rather than research quality or results.  
For competition rules and judging criteria click here.
Here is the 2022 full event Live stream on our YouTube channel: 
Sumith Kahanda, Ph.D., P.Eng.

Dr. Sumith is a Professional Engineer, Project Manager, a Leader and Community Volunteer from Saskatoon with a great passion and dedication to give back to the engineering community. He is self-driven, motivated and results driven leader who can bring more values and inspire many engineering members. Currently, he works as the Project Manager with SaskWater.

Dr. Sumith has obtained his B.Sc. in Agriculture (Major: Agriculture Engineering), from University of Peradeniya, Sri Lanka; M.Sc. in Water Resources Engineering from Katholieke University, Belgium; and PhD in Agriculture and Bioresources Engineering, from the University of Saskatchewan. He has obtained leadership training from Harvard Business School Online, SaskWater and University of Saskatchewan.

Dr. Sumith has been a volunteer for APEGS, SES, PMP North Saskatchewan Chapter, and ASQ Saskatchewan Section for a number of years. Currently, he is the vice-chair, APEGS Professional Development Committee, past president of SES, and member leader of ASQ Saskatchewan Section. Sumith was the SES president for 2021/22 and led SES to bring more values to SES members and enhance their experience with SES. In 2021, Sumith was the chair of ASQ Saskatchewan Section and led the organization to receive gold medal for performance excellence that year. Smith has been a mentor for co-op and graduate students from the College of Engineering, U of S. He is a mentor for International Graduate Engineers in the province and across Canada.

Sumith has training and experience at Board Level. He has hold director positions with various Boards including SaskTel, Open Door Society, Saskatoon Food Bank, and a couple of other non-profit organizations.

Sumith has been awarded Queen Elizabeth II Platinum Jubilee Award in 2023 and the Top 25 Immigrant Award in 2010 for his exemplary service and contribution to the Community.

Tate Cao, P.Eng., MBA

Tate N. Cao is an Assistant Professor in the Ron and Jane Graham School of Professional Development at the University of Saskatchewan. He is the La Borde Chair in Engineering Entrepreneurship and teaches courses on engineering technology management, product design, and entrepreneurship. His research interests include 3D printing in tissue engineering and healthcare, smart farming technologies, and entrepreneurial practices. He has founded and directed the SIGMA Educational Skill Accelerator program, and serves on several boards, including the Asian American Innovation Alliance, Co. Learn, Tech Innovation and Engineering Entrepreneurship group at CEEA and the Pan Canadian Smart Farm Network. Prior to joining USask, he practiced intellectual property law and built and managed startup companies. Prof. Cao received his bachelor's degree in Biomedical Engineering from Beijing Institute of Technology and his Master's in Biomedical Engineering and MBA from the University of Saskatchewan. He is one of the six USask Sustainability Faculty Fellow and leads the Smart Farming Initiative at the College of Engineering.

Connect with the instructor: Linkedin: https://www.linkedin.com/in/tatencao/

Twitter: @CNTate

Instragram: @caotate

Alex Babij, P.Eng.

Manager, Distribution Engineering O&M Support at SaskPower

Alex Babij is the Manager of Distribution Engineering Operations and Maintenance support at SaskPower. He graduated from the University of Saskatchewan with a B.Sc. in Electrical Engineering in 2007. After receiving his degree, Alex immediately began working with a telecom company before joining SaskPower in 2010. During his time at SaskPower, Alex has worked in multiple departments including region engineering support, asset management and field services and distribution engineering. In his current role he is leading the team providing the technical expertise for distributed generation interconnections, distribution system protection, distribution transformation pilot projects, distribution system reliability and power quality. In addition to his managerial role, he also is the committee chair of SaskPower's Engineer in Training development program. The program provides new engineering graduates with an opportunity to work in various positions within SaskPower before settling into a permanent role as well as provide SaskPower with a pool of engineers to fill vacancies.

Seokbum Ko, Ph.D.

Seokbum Ko is currently a Professor at the Department of Electrical and Computer Engineering and the Division of Biomedical Engineering, University of Saskatchewan, Canada. He got his PhD degree from the University of Rhode Island, USA in 2002.

His research interests include computer architecture/arithmetic, efficient hardware implementation of compute-intensive applications, deep learning processor architecture and biomedical engineering.

He is a senior member of IEEE circuits and systems society and associate editors of IEEE TVLSI and IEEE Access. He was an associate editor of IEEE TCASI (2020-2021)

Venu Babu Borugadda, Ph.D.

Currently, Dr. Venu Babu Borugadda is a Manager for Research and Development for a renewable fuel company Tidewater Renewables Ltd. located in Calgary. At the U of S, he is working as a research associate (RA) in the Department of Chemical and Biological Engineering in Professor Dalai's lab. Before joining the University of Saskatchewan, he was an assistant professor (Ad hoc) in the Department of Chemical Engineering at the National Institute of Technology (NIT) Calicut, Kerala. He received his Ph.D. in Chemical Engineering (2016) from the Indian Institute of Technology (IIT) Guwahati and a Master of Technology from the same institute with a Petroleum Refinery Engineering specialization in 2011. He earned his bachelor's degree (2009) in Chemical Engineering from Jawaharlal Nehru Technological University (JNTU), Anantapur. He has over ten years of research experience in biomaterials processing, Bio-lubricants, Catalyst preparation and development, and Production of carbon-neutral fuels and chemicals via thermo-chemical conversion technologies. Currently, the focus of his research interests is the production of advanced biofuels through hydrothermal liquefaction, Catalysis and Chemical Reaction Engineering, and Techno-economic and life cycle analysis. He has published 50 research articles in peer-reviewing journals, 10 book chapters, and more than 50 conference proceedings. He has been serving as a reviewer for many international journals like Fuel, Journal of Cleaner Production, International Journal of Hydrogen Energy, Chemical Engineering Communications, Industrial Crops and Products, and International Journal of Industrial Chemistry.

Jeanie Wills, Ph.D.

Jeanie Wills (she, her) is the DK Seaman Chair in Technical and Professional Communication in the Ron and Jane Graham School of Professional Development, College of Engineering. She currently teaches interpersonal communication, negotiation, and a foundational communication class. Wills' research has focussed on women and professional work in historical contexts. Wills' current research project is a piece of a larger project that intends to discover how historical public language practices surrounding the disciplines of Canadian engineering have excluded women and other underrepresented groups.

Margaret Kuzyk, P.Eng.

Margaret Kuzyk, P.Eng., FEC, FGC(Hon.), FCSSE

Margaret Kuzyk is a retired professional engineer from Saskatoon. She holds a diploma in architectural technology from SAIT in Calgary and a degree in civil engineering from USask. She worked primarily for municipal, provincial and federal governments, and did some consulting in the areas of building codes and regulation, project management and facility planning.

Margaret's volunteer activities include with APEGS (Association of Professional Engineers and

Geoscientists of Saskatchewan), USask Senate, SBOA (Saskatchewan Building Officials Association), CPSS (Council of the College of Physicians and Surgeons), SHA (Saskatchewan Health Authority), USask Engineering Advancement Trust, CSW (Corporation of Seven Wardens), and Engineers' Iron Ring Camps in Regina and Saskatoon.

Christopher Bowman, Ph.D.

Christopher Bowman, Ph.D., Tech Transfer Manager

Chris holds a Ph.D. in applied mathematics from the University of Arizona and has extensive experience in supporting research commercialization and collaboration in academic, government and private sectors. He has been a technology transfer manager at U of S for seven years, he focuses on finding, or developing partners that can take university IP and advance it to market-ready products or services. He is responsible for an expanding portfolio including Engineering, Physical Sciences, Information and Communications Technologies and Agriculture.
#

TIME

Name, Surname

Title

1

11:20

Alex Sacher

Regional depth-specific subchondral bone density measures in osteoarthritic and normal distalfemora

2

11:25

Abbas Fazel

Stop killing animals for science! Use Organ-On-Chip

3

11:30

Arash Mollahosseini

Separation

4

11:35

Rahman Zeynali

Enhancing Biogas Generation in a Municipal Wastewater Treatment Anaerobic DigestionProcess

5

11:40

Ravichandra Patil

Novel biofuel generation technologies.

6

11:45

Divyapratim Das

Triboelectrostatic Separator for Dry Fractionation of Pulse Flour

7

11:50

Mohamed Aboughaly

Development of Biochar for Enhancement of properties in Polymer Composites

8

11:55

Kaitlyn Baron

An Experimental Study of the Near-Wake Region of Low-Aspect-Ratio Surface-MountedRectangular Flat Plates

9

12:00

Edgar Martinez-Soberanes

A New Method for Dehulling Canola

10

12:05

Ahmad Firouzian Nejad

Designing morphing structures using bi-stable composite laminates

11

12:10

Maliheh Heravi

Supercritical water gasification of waste plastics to produce hydrogen

12

12:15

Micah Heide

Influence of Web Geometry on Concrete Masonry Walls Subject to Out-of-Plane Loading

13

12:20

Tolen Moirangthem

Radio frequency treatment vs changes in structural and anti-nutritional components of pulsesavailable in Canada

14

12:25

Shabnam Ghanbarzadeh

Synthesis and characterization of various shapes of modified NiMo/γ-Al2O3 catalyst forhydrotreating of heavy gas oil

15

12:30

Farzan Hayati

Ethylene oxide production through the catalytic reaction of ethylene and ozone

16

12:35

Amir Payan

Removal of inddor air pollutants

17

12:40

Kapil Khandelwal

Supercritical water gasification

18

12:45

Farid Jafarihaghighi

The effect of crystals of MnO2 on VOCs removal via catalyst ozonation

19

12:50

Brooke Petreny

Bluff Body Aerodynamics

20

12:55

Ashwin Joseph Mathews

Contaminant and aerosol transfer in membrane-based air-to-air energy exchangers

21

13:00

Shahab Minaei

Emerging Pollutants; A Growing Concern?

22

13:20

Zachary Lang

Diamond Response to X-Rays

23

13:25

Pezhman Zolfaghari Didani

Ozone-based disinfection platform for the indoor air conditioning systems

24

13:30

Aishwarya Gurung

Electrocoagulation Treatment of Black Liquor Produced from Wheat Straw Pulping Process

25

13:35

Siddhartha Gollamudi

Feasibility of Heat Pumps in Cold Climates

26

13:40

Ali Jamali

A Domain-Free Self-Supervised Learning Approach for Classification of Anomalies in WirelessCapsule Endoscopy Images

27

13:45

Runrong Yin

Development of a more efficient approach to industrial scale dehull canola seeds

28

13:50

Asma Ghorbani

Catalytic Conversion of Glycerol to 1,3-Propanediol

29

13:55

Nirpesh Dhakal

Bioconversion of syngas to polyhydroxyacetate (PHA): Assessment of mixed and multi-stageculture

30

14:00

Shaheli Senanayake

Identifying critical success factors influencing road safety at urban signalized intersections inSaskatchewan-Transportation Engineering

31

14:05

Seyed Ali Hashemi Kouchaksaraei

Use of pulse starch for PLA and ethanol through microbial fermentation route

32

14:10

Amirsaeed Hosseini Jey

Assessing the Impact of Traffic Volume Changes in Observational Before–After SafetyStudies: a "No Treatment" Evaluation during COVID-19 Pandemic in Canada

33

14:15

Alireza Asadi

Multi-input dc-dc converter using in PV applications

34

14:20

Parvaneh Koranian

Catalytic conversion of glycerol to value-added product

35

14:25

Shivangi Jha

Transforming Waste into Biochar for Carbon Capture and Wastewater Treatment

36

14:30

Imanma Tiffany Egeonu

Bone Microstructure and Bone Strength related to the Pubertal Growth Spurt in Children andAdolescents

37

14:35

Minoo Soltani

Bioaerosol disinfection using cold plasma

38

14:40

Anamol Pokharel

Development of hemp and flax based bioplastics

39

14:45

Zahra Teimouri

Clean and sustainable fuels with Fischer-Tropsch synthesis

40

14:50

Tejvir Binepal

Transfer of bio-aerosols in membrane energy exchangers

41

14:55

Amirreza Mahmoudi

Frosting in Membrane Energy Exchangers

42

15:00

Malihe Afrooz

Water treatment